Audrina Patridge Nude Playboy Photos

Audrina Patridge Naked Playboy Pictures

The Hills' reality star Audrina Partridge has a big nude picture scandal in her hands.There are numerous naked photos of Patridge dressed as a dirty schoolgirl floating around the internet.Audrina said:
"I took these photos years ago when I was just out of high school and beginning to model. I was young and very trusting of others and I didn't know to protect myself. It is a lesson learned, for myself, and hopefully for the young girls who look up to me,"
New episodes of MTV hit reality series The Hills will begin airing on March 24th,so just another naked picture publicity stunt.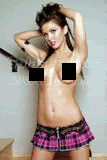 Category: Audrina Patridge