Christina Hendricks New York Magazine Cover Photo
Christina Hendricks New York Magazine Cover Photo – "Mad Men" actress Christina Hendricks graces this week's cover of New York Magazine dressed in a corset/lingerie. She also did an interview with the mag where she talked about her body and the show.
On her body :
"It just leaves a bad taste in my mouth.Back when I was modeling, if someone said 'I'm fasting,' I would say, 'Can't we talk about something else?.It kind of hurt my feelings at first.Anytime someone talks about your figure constantly, you get nervous, you get really self-conscious. I was working my butt off on the show, and then all anyone was talking about was my body!"
On being part of Mad Men:
"We're really spoiled on Mad Men," she says. "Lots of television actors use the down season to go out and get creatively fulfilled, but I feel the opposite. Anything else I get to do is just icing."
What are your thoughts on the sexy cover?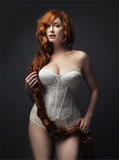 Category: Celebrity Gossip & Celebrity News