David Beckham Pictures In China
David Beckham was pictured at a fans meeting in Beijing, China on Saturday.Beckham recently revealed that his wife Victoria is hard at work for the upcoming Spice Girls world tour.David explained to This Morning:
"Since we have arrived in America she has been busy, but for the last month and a half now they have started rehearsals. Since I have been away, she has been dropping the kids off at school and going straight to rehearsals. She'll start rehearsals at 9, have a half hour break and finish and be home at 7."So she is working really, really hard at the moment."
He later added:
"That is why, as a group, they have had the success they have had. They are all perfectionists, they all want to put on the best show for the fans and it is definitely going to be an amazing show."
I never knew Spice Girls and amazing could ever be put together in the same sentence.Kudos to you David for doing it.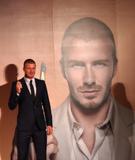 Category: Beckham