Heidi Montag Calls Cops On Mom Darlene Egelhoff
Heidi Montag Calls Cops On Mom Darlene Egelhoff – According to recent reports, Heidi Montag has been connected to more drama. On Thursday, she reportedly called the police on her mother and summoned them to her Los Angeles home. Her mother, Darlene Egelhoff had arrived to visit her after not seeing her for quite some time.
"My mom showed up unannounced to my house when she knows I have no interest in seeing or talking with her," said Montag, 23. "She tore my heart out on national television. She is just trying to create drama in my life."
Montag recently returned home to Colorado after undergoing an eye opening 10 plastic surgeries in one day. Her mother's reaction to the surgeries drove Montag to tears and prompted her husband to claim that her mother had tried to rape her emotionally. Los Angeles PD confirmed that they had been called to the home after Egelhoff had been turned away.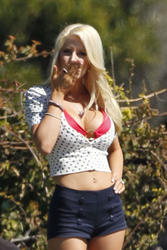 "Officers arrived on the scene and advised the mother that since her daughter is an adult, she doesn't have to speak to the mom if she doesn't want to," LA PD Department Sgt. Leffew said in response to the incident. "The mother said 'fine, no problem' and left. There were no citations or arrests.
"I made it very clear that I want nothing to do with her in my life right now," Montag said.
Category: Heidi Montag