Jennifer Garner Pregnant For Ben Affleck


Ben Affleck Jennifer Garner Pregnant – Jennifer Garner is apparently pregnant with her second child for husband Ben Affleck although they rumored to be getting a divorce.The couple,already has a two year old daughter named Violet. Jennifer and Ben will welcome the baby,early 2009 or end of 2008.The National Enquirer has reported:
"A few days before the Fourth of July, Jen began calling close pals with the news that she was pregnant again. Jen said she's three months along – and she and Ben are 'ecstatic',
"She and Ben are still deciding whether they'll ask the sex of the child."
Seems like Jennifer Garner is hiding something in these photos,taken yesterday in Los Angeles.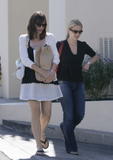 Category: Ben Affleck, Jennifer Garner