Katy Perry And Russell Brand Getting Married?
Katy Perry And Russell Brand Getting Married? – Katy Perry and Russell Brand who have been dating for few minutes months have decided that they are ready to get married.According to the Chicago Sun Times:
As we've been reporting, the romance between comedian and actor Russell Brand and singer Katy Perry is getting hotter by the moment. While house-hunting in L.A., Brand was overheard revealing he's put his London home on the market, expects to marry Perry "very soon" and has become "extremely attached to" Perry's evangelical minister parents — who have "totally changed my opinion about super-religious-type people," said Brand.
He also said he believes finding Perry has connected him with a true soul mate and made him put an end to his reputation as a womanizing serial dater. "She's the girl," Brand is quoted as gushing, "that's all there is to it."
I am still trying to figure out who is the dude and who is the chick in this relationship.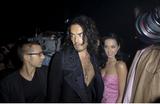 Category: Celebrity Gossip & Celebrity News