Keira Knightley Top Beauty Icon Of 2007

Keira Knightley's recent Greg Williams photoshoot for her movie "Atonement".
Keira Knightley has been chosen as the top beauty icon of 2007.
The 'Atonement' actress was crowned the winner in a poll of 2,500 people conducted by UK's Superdrug.Superdrug Beauty Director Katherine Le Clerc said:

"The top 10 beauty icons list shows that today there is room for everyone's idea of true beauty."From the aloof glamor of Keira Knightley and Victoria Beckham's high-maintenance gloss to the fresh faced youthful looks of actress Gemma Atkinson."
Who cares about her being fashionable or not,people just want to know if she is good in bed.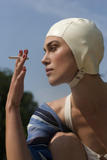 Category: Keira Knightley