Laura Michelle Prestin Pics Heating The Web: SI Photos
Laura Michelle Prestin Pics Heating The Web: SI Photos – Sports Illustrated has catapulted Laura Michelle into an Internet phenomenon. The Sports Illustrated Swimsuit edition featured the model, gaining her the attention of many adoring fans. She was named the lovely lady of the day on Wednesday, and her modeling pictures quickly went viral online. She has received more attention since her photos were posted than ever before in her career.
The Swimsuit Edition of the magazine was released in late February, and the company has expanded their coverage of swimsuit modeling to their website. As you can imagine, the edition is mostly read by men. They have decided that their hugely popular Swimsuit Edition needs to be available online, where readers can access it at any time. A number of previews of the models are available on their website along with 24 hour sports news.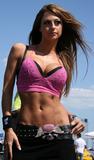 It will be interesting to see what Laura Michelle is able to do with her new found success. It will likely open up new doors for her in the modeling business. Sometimes, all it takes is a picture online for you to gain attention in the modeling industry and Prestin needs to start counting her blessings. By making the pictures available at any time of the day, any day of the week, Sports Illustrated has been able to capitalize on the hype that surrounds Laura Michelle Prestin.
Category: Celebrity Gossip & Celebrity News