Lena Headey Blasted By Fans And Feminists For Her Physique

Lena Headey recently did some sexy promo shoot for her hit series"Terminator: The Sarah Connor Chronicles".

Lena Headey is being blasted by fans and feminists for her physique that they consider too thin to play the heroine in the "Terminator: The Sarah Connor Chronicles".The angry online fan group said:
"an art project focused on physical feminist empowerment" "We were very upset to find out that a very thin and non-athletic actress had been chosen out of, supposedly, hundreds to play a role that we as physical feminists found so inspiring. We see this as yet another example of the media trying to inspire women to be thin, to 'keep our place' (as in not take up too much room) and to keep us from being strong."The premise of physical feminism is that women are just as capable of defending ourselves as men, that the concept that we are weaker than men is a cultural myth rather than a physical reality. And Hamilton's portrayal of Sarah Connor was a key media icon for that belief."
She looks just fine to me .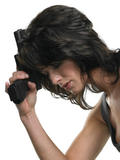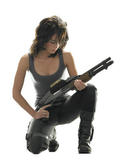 Category: Lena Headey