Portia de Rossi and Joely Richardson Nip/Tuck Lesbian Scene

Portia de Rossi and Joely Richardson,actresses from the TV series Nip/Tuck did a lesbian scene for the upcoming episodes.Portia who is currently dating Ellen Degeneres in real life explained:
"I am a lesbian playing a lesbian" says the blonde actress, "But she's a different woman than I am, so the most surprising thing is how emotional it's been for me."
Joely was very pleased with the steamy scenes,she added:
"I have no problems kissing women. It's not the first time I have done lesbian scenes.
"I have heard Ellen was jealous. She has been on set. She is great and Portia is lovely."
I thought I would be all excited by this,at the end it didn't do much.I am not really a fan of women of a certain age (over 24) getting down dirty.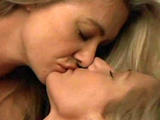 Category: Joely Richardson, Portia de Rossi